Exclusive Interview: Chatting With Rick Springfield
Details

Written by Super User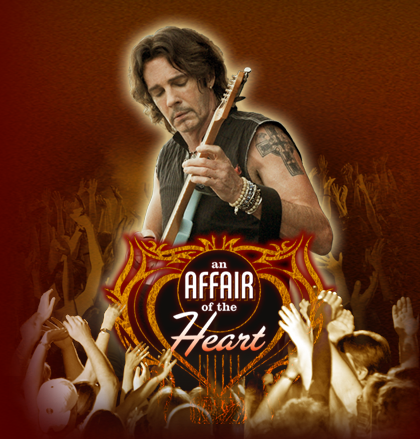 Exclusive Interview
Chatting With Rick Springfield
By Sammi-T
Rick Springfield
is a legend. When people hear his name, they think of one of two things: his incredible music career (who DIDN'T rock out to Jessie's Girl and want to be his woman like that?) and his role as Dr. Noah Drake on General Hospital. (aka, the ORIGINAL McDreamy and McSteamy all rolled into one) However, there is more to this man than meets the eye.
I recently talked to Rick in an exclusive interview to promote his new documentary An Affair Of The Heart. The film, which will air on May 15th on Epix, follows his career through the eyes of his fans, friends and costars. I won't spoil anything for you, but I will say it is one of the most amazing, ingenious ways to share his story. Rick says that he is amazed by what they did with the documentary, especially what they were able to show with the fans. (Some of it is jaw dropping!) He adds that there will be moments from live performances, some mention of General Hospital and a whole lot with his music fans.
In addition to talking about the documentary, we also talked about his acting career, his future and the advice he has for musicians.
ON GENERAL HOSPITAL:
In addition to his documentary, we talked a lot about his time as Dr. Noah Drake on General Hospital. (As a huge fan of him and the show, this was a dream come true for me and may have made me a teeny bit starstruck.) He says that although the show gave him his start as an actor, due to his busy schedule, a permanent return is not an option for now. He did, however, say that he loved returning for the Nurse's Ball and would not rule out making appearances every now and then.
THE FUTURE:
In addition to his documentary coming out in May, Rick is also hard at work on more music and touring to promote his new album Songs For The End Of The World. He considers the tour, which will go through the US, Europe and Japan, to be the tour that never ends and just keeps evolving.
He also plans on doing more acting. Although he said that he cannot commit to reprising his role as Dr. Noah Drake long term, that doesn't mean that he wants to give up his acting career. He revealed that he is currently looking at episodic stuff and will choose roles based on the script--great writing is a must!
Speaking of writing, Rick is proud to have his autobiography on the New York Times Bestseller List and one of the twenty five best rock and roll autobiographies of all time. He plans to follow that success with a new book coming out soon. Although he was unable to reveal much, he promises that his fans are going to enjoy it.
PEOPLE WOULD BE SURPRISED TO KNOW….
As always, I like to ask celebrities what people would be surprised to know about them. Rick says there are several things people may not know about him based on what they see on TV and hear in his music. Here are the top ten things people would be surprised to know about him:
1. He is an avid reader.
2. He grew up listening to Rogers and Hammerstein and considers them to be an inspiration.
3. He would probably have been a great veterinarian.
4. He loves dogs and has a Norwich terrier names Bindy.
5. He considers himself to be a writer above all else.
6. He wants to do what he can to help in the world.
7. He wanted to play the guitar since he was ten years old.
8. He was in several local bands in Australia before he got discovered.
9. He got his big break in 1971.
10. He is very knowledgeable about politics.
ADVICE:
Another thing I always like to ask celebrities, especially musicians, is the advice they would give to people who want to follow in their footsteps. After I told him about how one of my good friends and his band are on the cusp of major success, he offered them this advice 'you have to really want it, there is a lot of heartache and sacrifice, have to put your heart and soul into it.' Who knows? Maybe someday Rick will be touring or collaborating with my friends! (I know I would love a Springfield/MMVR performance.)
Thank you to Rick Springfield and his publicity team for the interview and be sure to check out his documentary on May 15th!