America's Got Talent: Recap For September 3, 2013
Details

Written by Sammi-T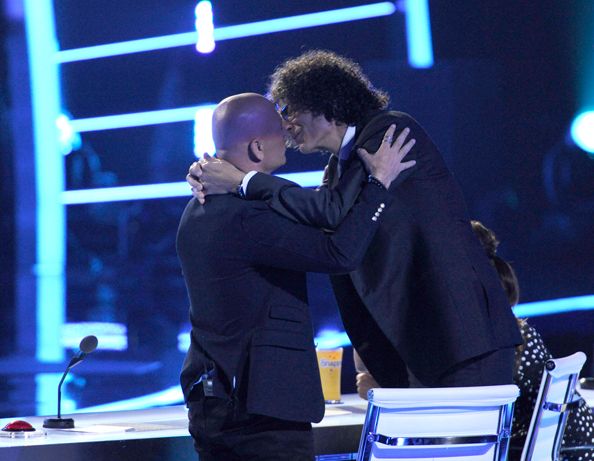 America's Got Talent
Recap For September 3, 2013
Hello and welcome to
America's Got Talent on NBC.
Tonight we will see the second half of the semi-final acts as they fight for a chance to make it into the finals and win a headlining act in Vegas.
Act: Amanda and D'Angelo
Talent: Dance
Sammi: Their routine is a futuristic dance to Michael Jackson. It is much different than I am used to seeing from them, but I like it. The water and special effects give it a nice touch and that WOW factor. Win or lose this show, they have a future on Dancing With The Stars as pros in a few years.
Mel B: She loves how flawless the dancing was, but only caught her attention when  they hit the water.
Howie: This was great, but not their best. They are at the same level as last time, but hopes America votes.
Howard: To dance like that in water was great and they upped their game.
Heidi: They are fierce and she loves them.
Act: Marty Brown
Talent: Singing
Sammi: He is singing Bless The Broken Road, which is one of my favorite songs. He adds his own spin to it and has so much heart as he sings. He has such a warm, sweet personality that you cannot help but smile.
Mel B: Much better than last time, but still not spot on and in tune.
Howie: He proved him wrong, but he needs to push the edge.
Heidi: 100% better than last time, but we will see what happens.
Howard: He connected with the audience, but it was a safe song.
Act: Chicago Boyz
Talent: Acrobatics
Sammi: One of them gets hurt and can no longer perform. However, the show must go on. They are exciting, fun and really athletic. I have never seen anything like this before. WOW! If they don't win, they should definitely get their own show or something.
Howard: They did Patrick (the one who got hurt) proud. They are phenomenal athletes.
Heidi: She loves seeing how joyous they are when they perform.
Mel B: She had her doubts, but that was off the hook.
Howie:  It was one of the most exciting things he has  ever seen and they should go on.
Act: Leon and Romy
Talent: Magic
Sammi: They are a bit sexier tonight. they do the woman in a box routine, but make the box disappear rather than cut the woman. To me, it was a cross between a DWTS pro performance and magic.
Howard: He likes how it is no nonsense magic. Remarkable.
Heidi: She loves it!
Mel B: She fell in love with magic all over again.
Howie: Howard made the right choice! They kiss! They both go to kiss their wives.
Act: Anna Christine
Talent: Singing
Sammi: I've said it before and said it again….she is a like a baby Miss Melanie. I can close my eyes and swear I was at a MMVR gig. What a voice….WOW!!! She needs a contract pronto.
Mel B: The other singers better watch out, she was amazing.
Howie: WOW!
Howard: She was fantastic. He hopes Jon Bon Jovi comes to the finals to sing with her.
Heidi: She probably has the strongest voice of the night. She is a superstar.
Act: Kenichi Ebina
Talent: Variety
Sammi: He always seems to have some kind of Matrix quality. Just when I thought he couldn't top his last performance, there he goes with making a double of himself dance in a mirror, flip it, reverse it and trap himself. WOW! If he doesn't WIN, I will be in shock. I am already praying that I have enough money on my Visa so I can see him live.
Howie: He screams over how much he loves it.
Howard: He thinks it is amazing.
Heidi: He is elevating dance to a whole new level.
Mel B: It  is mind blowing and she wants it in Vegas.
I love how the double is still dancing in the mirror.
Act: John Wing
Talent: Comedy
Sammi: He talks about family, marriage and women. He is hilarious and so relatable. What I like is how it isn't too over the top or racy. Just funny with a bit of adult humor that will go over the kids heads if they happen to hear it.
Howard: Vote for him, he is great.
Heidi: He is funny and relatable.
Mel B: Funny and spot on.
Howie: He makes people laugh effortlessly.
Act: Branden James
Talent: Singing
Sammi: He has such a beautiful voice and really commands the stage.  He is brilliant, but my fear is with all the talent there tonight he might get lost in the shuffle. I hope not, because he has something special.
Heidi: She is sweating with him and thinks he is the whole package.
Mel B: He looks extra cute tonight and says it was great.
Howie: The competition is mind boggling. It is really going to be up to America tonight.
Howard: He loves him but feels like the passion wasn't there. He isn't sure about tonight.
Act: Kristef Brothers
Talent: Variety
Sammi: For someone who was so injured, he certainly seems to be doing well. They come up with things I have never seen or even thought were possible….I mean, who thinks of balancing on people with swords in their mouths? It is magic meets Blades Of Glory.
Heidi: Today this was amazing and she loves them. She wants them to win.
Mel B: She was entertained and would take her kids to see them.
Howie: They shouldn't give too much away.
Howard: They reinvented this talent and says they are inspirational.
Act: American Military Spouses Choir
Talent: Singing
Sammi: I cannot stop crying. WOW. I am at a loss for words.
Heidi: She loves them.
Howie: They need to judge on them on their talent, not who they are married to.
Howard: They are pleasant, but not their best.
Mel B: Good, but is it enough?
Act: Timber Brown
Talent: Danger
Sammi: He is swinging from a chain over a pool and falls in with pyro effects in between. I like it, but it is a bit hard to follow.
Howie: He likes it and hopes people vote.
Howard: He has talent, but it isn't as strong as his previous performances.
Heidi: He is better than this.
Mel  B: It was magnificent.
Act: Jimmy Rose
Talent: Singing
Sammi: He has a beautiful, soothing voice and really brings the emotion. I just hope its enough to keep him on the show.
Heidi: He sings from the heart, but it might be hard for him tonight.
Mel B: He sang with such emotion--well bloody done.
Howie: Good job, but he has a lot of competition. People have to vote.
Howard: It was nice, but he wasn't blown away.
Join us tomorrow for the AGT results. Goodnight.